Meet the Team Behind Your Skin's Transformation
A Message from the Owner
Hello, I am Sue, the owner and founder of Four Seasons Skin Care Spa. I have been a licensed esthetician for over 20 years, and I have a passion for helping people achieve their skin care goals. I have extensive knowledge and experience in various skin care treatments, such as microdermabrasion, chemical peels, and more. I also keep myself updated with the latest trends and technologies in the industry.
I invite you to experience Four Seasons Skin Care Spa. You will be greeted by our friendly receptionist and relax in our comfortable reception area where you can enjoy a nice cup of tea or coffee while waiting for your appointment. In my spa room you can expect a comfortable warm bed in a tranquil environment with calming music to help you enjoy your spa experience. I will customize your spa treatment to rejuvenate your skin while providing you with a most relaxing experience.
I look forward to meeting you soon and making you feel beautiful inside and out!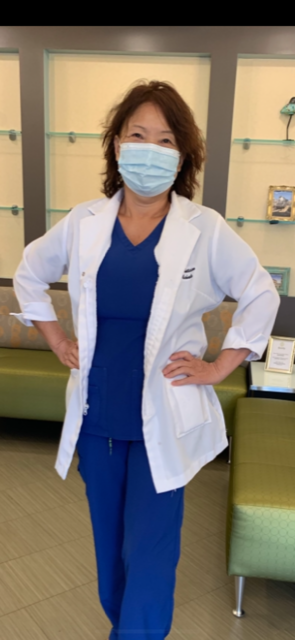 Sue Connolly is the owner and founder of Four Seasons Spa. She is a certified master esthetician with over 20 years of experience in the skin care industry. She has also worked as an esthetician at a local plastic surgery office where where she learned the application of medical grade peels and the microdermabrasion process. She also learned the proper way to treat cystic acne and hyperpigmentation.
"I've gotten two facials from Sue and I can't express how great she is! I've always struggled with cystic and bacterial acne even after using prescribed antibiotics and Tretinoin for years. Sue let me know that I had severely clogged pores and that was why I kept breaking out and was oily. She really took her time to extract everything and recommended me medical grade products after my first facial. The products on top of unclogged pores made a huge difference and after my second facial, my skin is a lot more clear and less oily. I also appreciate that she teaches you how to take care of your skin so that you only need to see her on an as needed basis. I highly recommend going to Sue. 

"
"Wonderful service. Sue really pays attention to the details and caters to my exact concerns and needs. I've been to a dermatologist in the past and they gave me no answers or any help with my acne. But since my first facial appointment with sue my skin is much better. Sue is so helpful, even after the appointment she referred a skin care routine the best fits my needs."
"Sue is the best. Simply the best as Tina would say. She cares about you, your skin and your skin care needs. No attempts to upsell. Just a passionate desire to serve each customer's needs. I saw her before the pandemic and couldn't wait to safely return and appreciate that she masks because I can't. Laura V."
"I have been going to see Ms. Sue for three years now. Her attention to detail is unsurpassed -hands down, the best Microdermabrasion Facial, Brazilian, and Body Wax in the DMV.Four Seasons Skin Care is an elegantly spaced spa and its treatment rooms welcome you into an oasis of beauty and balance.Today I had the most relaxing 3 hours of my life, especially after the month l've had. I came in dry, hairy, broken, and I left the beautiful glowing goddess that I am. Go see Ms. Sue, you will not regret your experience I promise. "
"If I could go higher than five stars I would in a heartbeat! Sue did such an amazing job, in the past I had a facial and I left still feeling like there is work to be done and they didn't really solve my skin care issues. Once Sue put me under the light she broke down everything going wrong and how she can repair it. Needless to say Sue facial was light years ahead of her competitors. As long as I am in the DMV area I will always go to Sue for my skincare from here on out. Such an amazing and professional service. "